On the morning of March 17th, Autowise.ai, a leading company in commercializing autonomous driving, announced its strategic cooperation with Saudi Arabia's Ajlan & Bros Holding Group. The two parties will establish a joint venture in Saudi Arabia to provide top-notch autonomous driving technology and the cross-scenario autonomous platform product Roboard-X for governments and end customers in the Middle East region. Huang Chao, founder and CEO of Autowise.ai, and Ammar Enaya, CEO of Ajlan Tech signed the strategic cooperation agreement on behalf of both parties.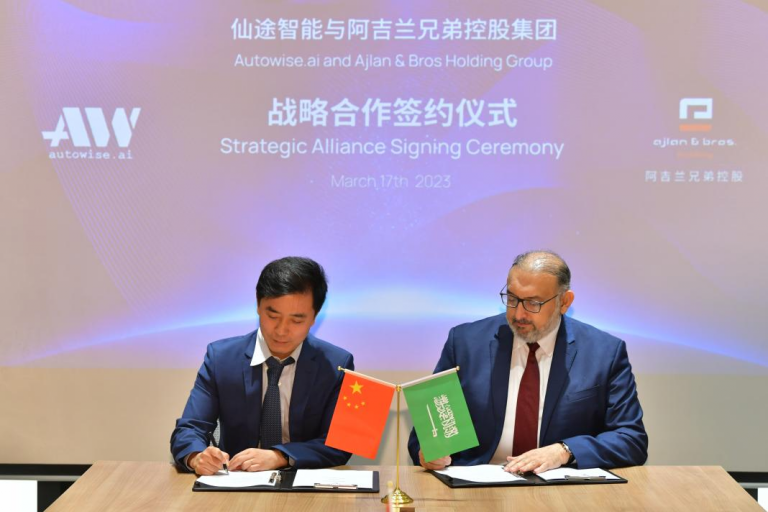 Huang Chao, founder and CEO of Autowise.ai, and Ammar Enaya, CEO of Ajlan Tech signed the strategic cooperation agreement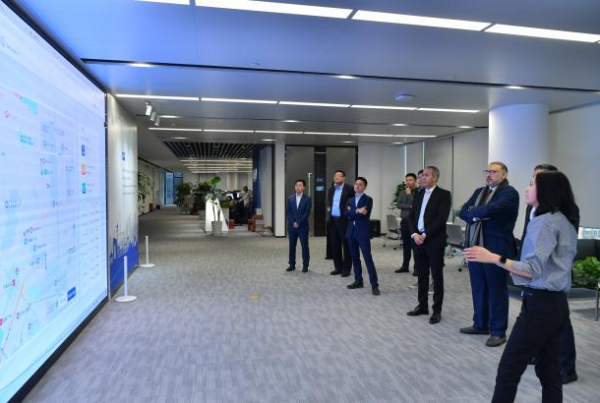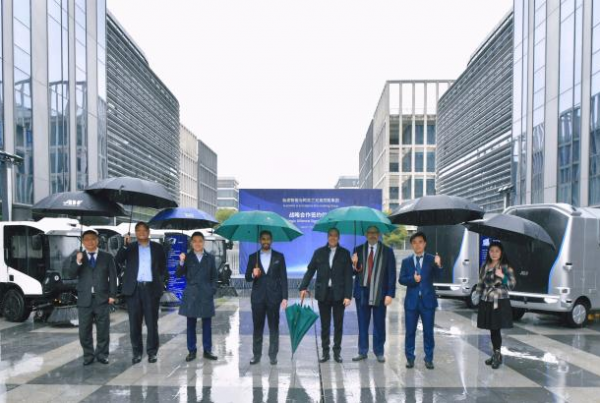 Team from Ajlan & Bros Holding Group visited Autowise.ai's product series and vehicle management platform
As one of the representative companies for China's autonomous driving products and technology going global, Autowise.ai has been continuously promoting overseas business development, achieving vehicle delivery in countries such as Germany, the United States, and Switzerland. The Middle East has always been one of Autowise.ai's overseas markets of concern. The climate there is hot, with high labor mobility and low professionalism, which makes it difficult to manage but very suitable for the application of autonomous driving technology. Ajlan & Bros Holding Group has long been committed to promoting the localization of leading global technologies in the Middle East region, which coincides with Autowise.ai's mission to "improve urban life through autonomous driving". In this strategic cooperation, both parties will establish a joint venture company in Saudi Arabia. Autowise.ai will be responsible for product development and technical support while ABH will mainly be responsible for business expansion and sales operations. The joint venture plans to deploy more than 1,000 autonomous driving vehicles in Saudi Arabia and other parts of the Middle East within three years to serve end-users such as governments and environmental sanitation agencies in these regions. Both parties will also soon land a large-scale fleet of autonomous vehicles in designated areas in Saudi Arabia to promote its demonstration application.
The core products of this strategic cooperation are Autowise.ai's newly developed autonomous platform Roboard-X and the self-developed autonomous sweeper V3. Roboard-X was officially released in January this year, and has achieved free switching between three major scenarios: passenger vehicle (AW Roboard-Space), logistics vehicle (AW Roboard-Van) and sweeper (AW Roboard-Sweeper), making it easy to support efficient reuse across different scenarios.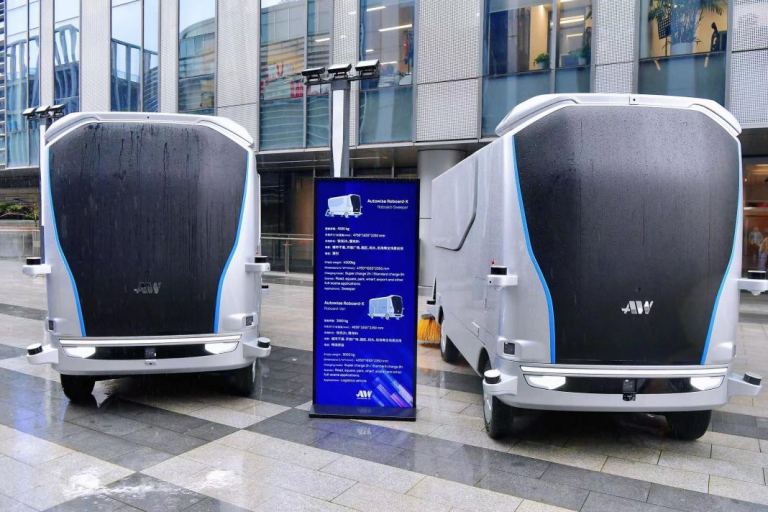 Autowise Roboard-X at the ceremony
V3 is a fully autonomous compact road sweeper tailored for smart sanitation, equipped with industry-leading autonomous driving system, large freshwater and wastewater tank. Compared with the same class of small sweepers, V3 triples the sweeping efficiency and reduces the comprehensive operating cost by 30%.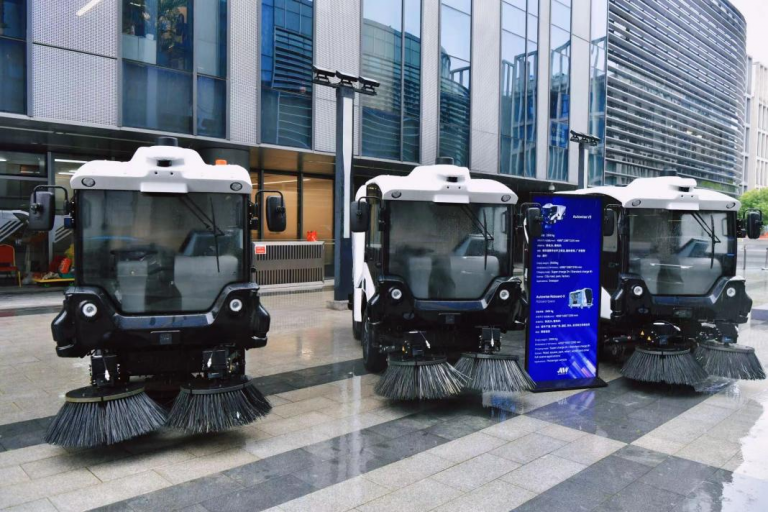 Autowise V3 at the ceremony
Huang Chao, Founder and CEO of Autowise.ai, said: Autowise.ai's products and technology are getting more mature, especially the full-stack self-developed V3 and Roboard-X. Autowise.ai's autonomous vehicles have been commercially deployed in more than 20 cities in China, Europe, and the U.S. This strategic cooperation will promote the large-scale landing of Autowise.ai in the Middle East, further enhance the iteration rate of Autowise.ai's product and technology, and finally take Chinese autonomous driving technology to a broader world stage.
Ammar Enaya, CEO of Ajlan Tech said: "We are pleased to start a new chapter of cooperation with Autowise.ai, injecting strong power into the efficient, safe and sustainable development of autonomous driving applications and technologies in the Middle East. As a leading company with mature intelligent autonomous driving technology, Autowise.ai has taken the lead in entering real operating scenarios in the industry, setting a benchmark for commercializing autonomous driving technology. We believe that in future cooperation, we will fully leverage our product advantages and work together with Autowise.ai to build a mature autonomous driving operation model in the Middle East region and lead the trend of smart operations development."
Ajlan Mohammed Al Ajlan, Deputy Group CEO of Ajlan & Bros Holding, said: "We are very pleased to establish a strategic partnership with Autowise.ai and look forward to the business development of the joint venture in the future. The commercial application of autonomous driving technology is still a pot of gold to be seek in Saudi Arabia. Under the guidance of Saudi Arabia's '2030 Vision', building a more intelligent Saudi is an inevitable trend. By working together with Autowise.ai, such an excellent autonomous driving commercial enterprise from China, Ajlan &Bros Holding will introduce advanced Chinese technology into the Saudi market and create solutions for relevant scenarios based on local industry development needs, which is in line with both parties' common interests. We will jointly promote the implementation of Saudi Arabia's '2030 Vision', improve the level of intelligence in Saudi, and build a more intelligent and diversified future.
This strategic cooperation is another successful practice of the overseas market strategy of Autowise.ai. With industry-leading autonomous driving software and hardware technology and commercial operation experience, Autowise.ai will promote autonomous driving products and technologies to more countries and regions around the world, allowing Chinese technology to reach every corner of the world.
Autowise.ai, an autonomous technology provider, was founded in August 2017 and is headquartered in Shanghai, China. It has subsidiaries and research centers in the United States, Switzerland and other places. The company's core business is research and application of artificial intelligence and autonomous driving technology with the mission to "improve urban life through unmanned driving". Its business covers the globe. Autowise.ai took the lead in applying autonomous driving technology to urban sanitation scenarios. In March 2018, it launched the world's first fleet of autonomous sweepers. In 2019, it obtained the world's first road test license for autonomous sweepers. Currently, Autowise.ai has nearly 200 automonous sweepers deployed commercially in more than 20 cities worldwide. In 2022, Autowise.ai successively launched its self-developed autonomous sweeper V3 and autonomous chassis Roboard-X that fully supports cross-scene efficient reuse, demonstrating the ability of technology migration, optimization and iteration of Autowise.ai.
【About Ajlan & Bros Holding】
Ajlan & Bros Holding Group (hereafter referred to as "the Group"), owned by the Alajlan family, is a global diversified conglomerate with multi-channel business sectors covering financial services, consumer-oriented manufacturing, healthcare provision, education, gaming, metal & mining, hospitality & tourism, logistics, etc. Group hopes to make the best use of its resources to become a leader in industries that are aligned with the Kingdom's Vision 2030, committed to seeking qualified cooperation and building strong and long-term relationships with Chinese counterparties to invest and work in the Kingdom in various sectors with all facilitations provided by the Group as the gateway to the MENA region, to jointly seize the opportunities in the Kingdom and mutually benefit from the development.
As a representative of the group's deep cultivation in the field of technology, Ajlan Tech relies on the group's strong technological innovation capabilities and globalization advantages to focus on logistics, finance, medical care, cloud computing and other technological subdivisions. It will work together with many high-tech enterprises including Autowise.ai to create a global diversified technology space.