Autonomous driving technology developer Autowise.ai has seen a lot of success recently, not only in the domestic market, but in overseas markets as well where it has undertaken projects in cities like Duisburg, Germany and Moscow, Russia. Mr. William Liu, Partner and VP of Corporate Development at Autowise.ai, believes that the application of autonomous driving technology in the sanitation market will enable Chinese companies to enter this trillion-yuan market in the next 3-5 years.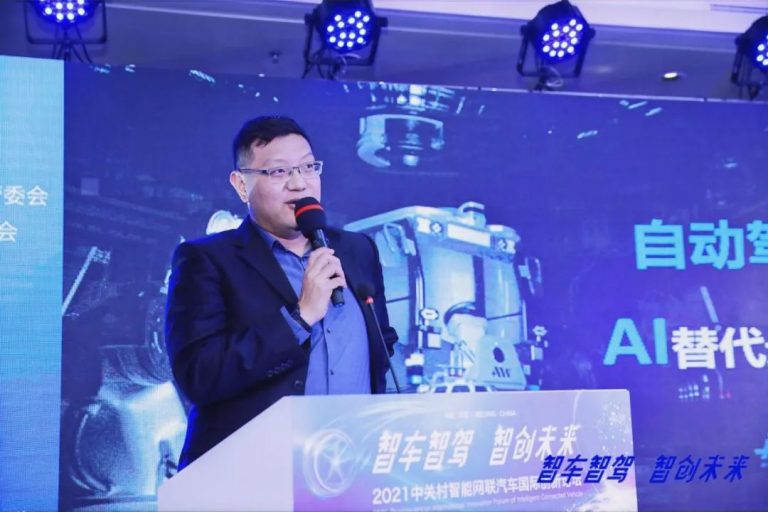 William Liu, Partner and VP of Corporate Development at Autowise.ai
The sanitation industry — a severely undervalued market
Autowise.ai has been deeply involved in the application of autonomous driving technology in urban sanitation. Research found that the global urban sanitation market has been long neglected and severely undervalued. The Chinese government and local companies spend more than CNY 300 billion on sanitation and cleaning every year. In the U.S., more than 2.2 million workers are employed in the sanitation industry, with a per capita annual salary of USD 30,000. This translates to about CNY 420 billion being paid to sanitation workers each year. In Europe, the overall annual sanitation budget is as high as CNY 1.2 trillion. Therefore, there is huge room for growth in these markets.
Autowise.ai fleet in Guangzhou
Going back to China, during the 14th Five-Year Plan period, the market is poised to grow rapidly at an annual growth rate of 7%. In the next five years, the market size will increase by CNY 100 billion, and the level of automation will also increase rapidly. By 2025, the number of sanitation vehicles will increase by 200,000 units, and the market penetration of autonomous driving sanitation vehicles will increase from the current percentage of less than 0.1% to 10%. In other words, for every 3 new sanitation vehicles, 1 will be an autonomous driving vehicle.
The sanitation market is changing drastically
While the market is severely undervalued, there are still many pain points associated with the relatively low penetration of automation in the traditional sanitation industry. With today's aging population, the average age of sanitation workers in China is 57 years old, and the percentage of B2 driving license holders is only 20%. Sanitation operations are relatively low-speed and highly repetitive. Elderly sanitation workers are often unable to concentrate fully, leading to low cleaning results and high incidence of traffic accident. All these factors point to the fact that transformation of the traditional sanitation Era 1.0 is not only imminent, but necessary. With the strengthening of autonomous driving technology, the sanitation industry has gradually moved into the nascent Era 2.0. Sanitation cleaning operations are performed through cloud-based control, with a small number of sanitation staff and a fleet of L4 autonomous sweepers working together on site. Overall operational efficiency is increased by 50%, while operating costs are reduced by more than 30%. At the same time, one autonomous driving new-energy vehicle can reduce carbon emissions by up to 200 tons.
As the technology continues to mature, and corresponding regulations are improved, the sanitation industry will move into Era 3.0. In this era, safety officers will use a cloud-based control platform to manage L5 autonomous sweepers and truly unmanned operations will be achieved. It is expected that overall efficiency will increase by 100%, and that overall costs will decrease by 80%. At the same time, having 100,000 driverless new-energy vehicles will reduce carbon emissions by about 20 million tons.
Since its establishment four years ago, Autowise.ai has been deeply involved in and continuing its pursuit in the autonomous driving sanitation industry. In Shanghai's autonomous driving demonstration zone, Autowise.ai achieved a 99.4% pass rate in 1,230 tests, covering 11 projects and 41 scenarios. The company was awarded the world's first test license for autonomous driving sanitation vehicle. To date, Autowise.ai has accumulated about 100 on-road permits worldwide — the most autonomous driving permits in the world. To meet various demands of application, Autowise.ai has indoor autonomous driving scrubbers, and small, medium, and large sanitation sweepers for outdoor use. The full range of products focuses on L4 autonomous sweepers that meet the needs of various operational scenarios.
Autowise.ai's 150+ sweepers have been deployed in more than 20 cities across China. This has generated a sustainable operating revenue of nearly CNY 100 million per year. The continued progress of core technologies such as garbage detection, data analysis, path planning, vehicle dispatching, vehicle-road coordination, and precise positioning, has enabled Autowise.ai to efficiently solve urban sanitation operation problems, and master complex scenarios such as elevated high-speed roads, airport runways, tunnels, and ports.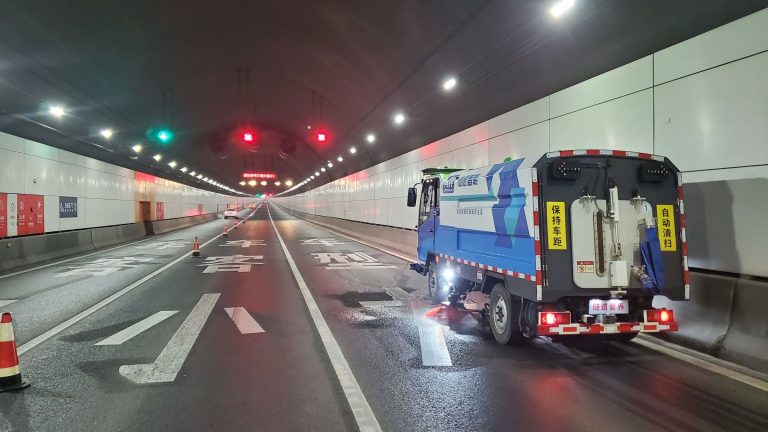 Autowise.ai autonomous sweeper at the Nanjing Yangtze River Tunnel
Autowise.ai has also set up a joint venture with world-renowned equipment manufacturer Boschung in Switzerland. Autowise.ai chose to conduct pilot operations in countries with a high degree of industrialization and strict quality requirements. This was so that it could explore various operational scenarios such as large shopping centers, port parks, etc. in the U.S. and European countries. The rigorous product testing in overseas markets has led to a significant breakthrough in the productization and delivery capabilities of Autowise.ai's software and hardware products. Autowise.ai will expand into more overseas markets such as Australia, New Zealand, and the Middle East in 2022.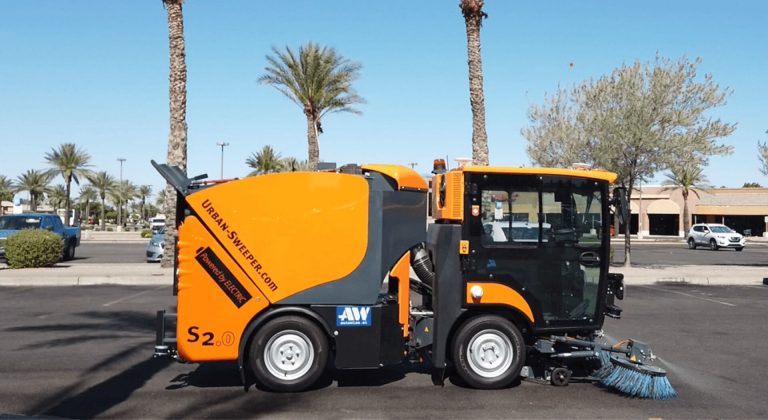 Autowise.ai autonomous sweeper in Phoenix, Arizona, USA