Autowise.ai's scaled landing in the Middle East has opened a new chapter. Autowise V3, a full-stack autonomous sweeper developed by Autowise.ai, recently landed in Riyadh, the capital of Saudi Arabia, to perform autonomous cleaning tasks on the streets of a luxury residential compound.
Saudi Arabia launched its "Vision 2030" strategic framework and reform plan in 2016, which covers smart cities, digital economy, science and technology innovation and other areas. More than 25% of vehicles on public roads are required to operate unmanned. Saudi Arabia's Vision 2030 is highly compatible with China's Belt and Road Initiative. Driven by favorable policies, Autowise.ai announced its strategic cooperation with Saudi Arabia's Ajlan & Bros Holding Group in March. Both parties will establish a joint venture in Saudi Arabia and deploy more than 1,000 autonomous driving vehicles in Saudi Arabia and other parts of the Middle East. This landing marks that the cooperation between both parties has entered the substantive stage, laying the foundation for the subsequent large-scale application of autonomous driving in the Middle East.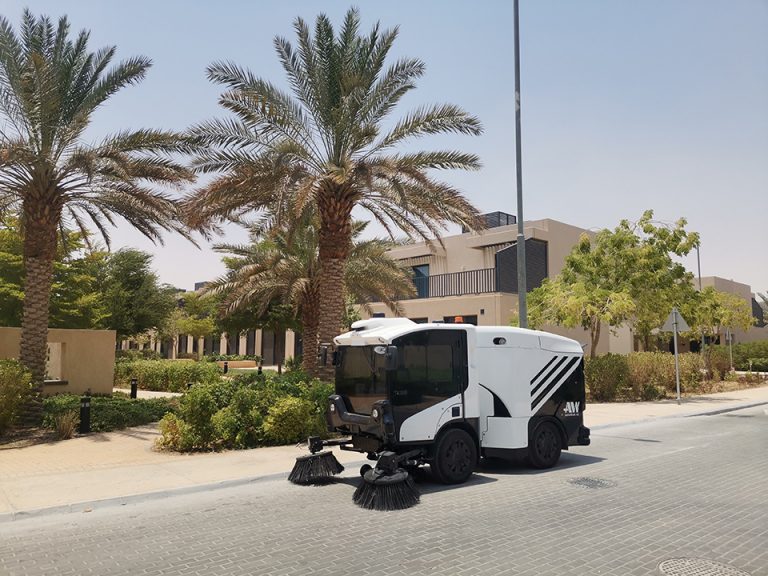 V3 works in a luxury residential compound in the north of Riyadh, covering an area of over 520,000 square meters. The community always strives to provide residents with a clean and tidy environment, and has high requirements for cleaning. There are many parking spaces on both sides of the road. A lot of pedestrians, bushes protruding from some of the road edges, and curved road edges that do not continue, with some slopes. Sweeper needs to get very close to the curb to perform curbside-cleaning, which puts forward higher requirements for the perception, positioning and control ability of autonomous driving.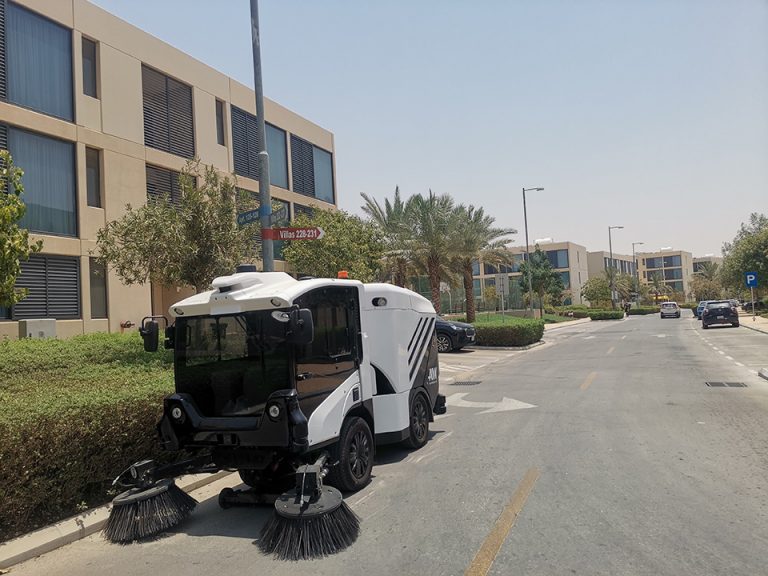 Most of Saudi Arabia has a subtropical desert climate, with dry and hot summers and sandy weather. The highest temperature can reach 50℃or more.  In order to cope with the extreme climate, Autowise.ai's R&D team simulated the local working conditions of 50-65℃, and carried out all-round testing and calibriation for the EIC system, hydraulic system, cleaning system, chassis structure, interior and exterior trim, low voltage apparatus and the autonomous driving system, so as to ensure standard operation of V3 under extreme weather conditions.
Autowise.ai's remote operation platform Radar24 provides technical support for V3 operations, realizing autonomous functions such as vehicle status query, real-time task scheduling, and remote assisted planning, which reduces manpower costs and brings a more intelligent development direction for road cleaning. Autowise.ai is also rapidly iterating a mobile APP called WiAction to realize remote vehicle control for overseas users.
Autowise.ai has realized commercial landing in more than 20 cities around the world, and this delivery is another successful practice of Autowise.ai's oversea strategy. With excellent autonomous driving hardware and software technology and rich commercial operation experience, Autowise.ai will accelerate the process of commercialization and application of autonomous driving in the Middle East and the world, bringing autonomous driving products and technologies to more countries and regions around the world.